Abier Abdelnaby, MD '92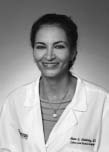 Dr. Abier Abdelnaby, surgeon and professor, was born in Alexandria, Egypt and emigrated to the United States with her family at the age of three. Calling Bloomfield "home," Dr. Abdelnaby is a proud product of the public school system here, attending Brookdale Elementary where the idea of becoming a doctor took seed.
Dr. Abdelnaby attended Bloomfield Middle and Bloomfield High School before heading off to Cornell University. While at Cornell, she earned a BA in economics and international relations, while fulfilling pre-medical course requirements.
Her dream of becoming a surgeon was realized while attending Howard University College of Medicine in Washington, DC. Dr. Abdelnaby completed five years of general surgery residency at Providence Hospital in Washington, DC, and further sub-specialty training at the University of Southern California in Los Angeles.
She is currently a double board-certified colon and rectal surgeon in Dallas, Texas, where she serves on staff at Zale Lipshy University Hospital, Parkland Memorial Hospital, and Clements University Hospital. Dr. Abdelnaby is also an associate professor of surgery at the University of Texas Southwestern Medical Center. In addition to teaching, Dr. Abdelnaby is widely involved with her students, presenting lecture series on "A Resident's Survival Guide," and mentoring students in the areas of surgery and global health.
Dr. Abdelnaby also serves as the program director for The Global Health
Surgical Academic Fellowship in the department of surgery at UT Southwestern Medical Center. Her areas of interest within global health are refugees and addressing the different refugee crises around the world. Her mission, and her passion, is to help develop future surgical leaders in the arena of global health and to put her institution on the global map. Over the past several years, she has spent her vacation time on mission trips to Jordan, Palestine, and the West Bank to provide surgical services to refugees.
In September 2013, Dr. Abdelnaby was featured on ABC Nightline News for humanitarian efforts in a video report titled "Caught in the Crossfire." The story told about the volunteer humanitarian efforts of 29 medical professionals from around the world, armed with 750 pounds of medication, trying to repair the unimaginable injuries to wounded Syrian refugees, mostly children, pouring into a Jordanian Hospital.
In addition to her humanitarian work which has taken her from the Middle East to Haiti and Ethiopia, Dr. Abdelnaby is a member of numerous professional associations including Physicians for Peace, the Society of American Gastrointestinal and Endoscopic Surgery Go Global (SAGES), and the National Arab American Medical Association (NAAMA). The BEF bestowed the Alumna of the Year Award upon her in 2016. She has done extensive research and published articles on diseases related to the intestines, including colorectal cancers and lectures widely on laparoscopic procedures and pelvic floor disorders.
To unwind from her professional passions, Dr. Abdelnaby enjoys exercising, reading, catching up on movies and spending time with her daughter, Leila.
Joseph Barry, Jr. '49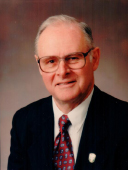 A lifelong resident of Bloomfield, Joseph Barry Jr. attended Brookdale School, graduated from St. Thomas the Apostle and Bloomfield High School.  He attained a BSME with Management Option from Newark College of Engineering and served in the Army during the Korean Conflict.
Mr. Barry began his 40-year career as a Lab Technician for General Electric, in Bloomfield, and then held positions as the Assistant Plant Engineer for Maas & Waldstein Co., Newark; Salesman to the Company President for McNeil Construction, Newark, and Township Administrator for the Township of Bloomfield.
Married to the former Patricia Gunther, of Bloomfield (deceased), Joseph is the father of eight children, Patricia Corcoran of West Orange, Joseph of Bloomfield, Theodore of Toano, VA, Nancy Carey of Lake Como, PA, Eileen McLaughlin of Hopatcong, Jane Mahoney of Pearl River, NY, Kathleen Toto of Herndon, VA, and Betsy Orellana of Bloomfield.  He has 26 grandchildren and 10 great grandchildren.
Joseph is the NJ State Coordinator for Project Children, a Life Member of the National Society of Professional Engineers, a Trustee of United Way of Bloomfield, The Bloomfield Historical Society, Friends of the Library, and Life Member of the Knights of Columbus.  He is a former Board member of the Essex County Heart Association, and served as the Residential Fund Drive Chair, was on the Board of School Estimate from 1963-1966, the BHS Expansion Committee in 1971, and is a former member of the Oakside Cultural Center.  He also served his community as Councilman-at-Large from 1963-1966 and First Ward Councilman from 1973 through 1989 and was presented with a Distinguished Service Award from the Bloomfield Public Library in 1983 for his recognition of the quality library service and the example he personally set to the townspeople by using the resources of the Library himself, on a regular basis.  He was bestowed with the BEF Alumnus of the Year Award in 2014.
Kristen Gengaro, '96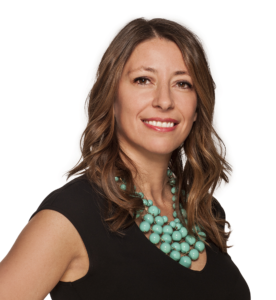 Kristen Gengaro is a BHS graduate, class of 1996. After attending Yale University she spent 18 years in New York City, and now Chicago, working in a variety of capacities in advertising and marketing strategy.  She is currently a Managing Partner at TBWA\WorldHealth, a company focused on creative marketing solutions that increase productivity by disrupting conventional thinking within the healthcare industry.
Among her many accomplishments, the Healthcare Businesswomen's Association named Kristen a "Rising Star" in 2009. More recently, she was inducted into the Medical Marketing & Media Hall of Femme and became part of the Med Ad News Brand Team of the Year for her efforts launching 2 drugs to cure Hepatitis C.
Kristen is personally and professionally committed to organizations that sustain the promise of improved health for individuals, families, and the larger community. She is involved in numerous alumni committees and charitable organizations, and is especially proud of her work in Rwanda with Komera, a nonprofit organization dedicated to building self-confident women through education, community, and sport.
While at BHS Kristen played on championships team in 3 sports for the Bengals: soccer, basketball, and softball. She was also a proud recipient of the Theodore Jasieniecki Scholarship – which helped to make her education at Yale a reality, providing an early stepping stone for success. Her parents still attend games in Bloomfield, keeping her updated on the Bengals successes. She had a chance to attend her 20-year high school reunion just in November and says "There are so many impressive graduates of the school; I left the event feeling very inspired by the larger group."
When asked about anything she uses today learned from her time at BHS from being involved in sports to student government Kristen says "There's a common theme in every activity I was part of in high school – learning to work in team environments, and to put the needs of a team or group ahead of a personal agenda."
When discussing favorite teachers from her high school years she claims there was an embarrassment of riches. Miss Zak inspired her love of science; Dr. Ates inspired student government to be leaders within the community; Coaches Mayer, White, and Jenkins taught us important life lessons on and off the playing field.
When pressed with what message would you give a current BHS student? Kristen responds with F. Scott Fitzgerald "I hope you live a life you're proud of." And advises
"that whatever your destination might be – a city far from Bloomfield, a profession different from what you'd expected, a life you haven't imagined just yet – do it in a way that makes you proud. And makes our Bloomfield community proud."
Richard Koscielak, '75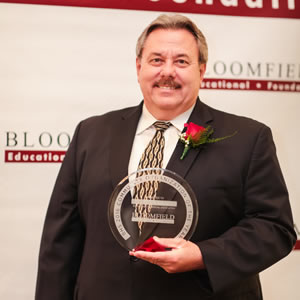 Richard Koscielak graduated from Saint Valentine's School and Bloomfield High School and his parents were lifelong residents of Bloomfield. Rich attended Rutgers University and received a Bachelor of Arts Degree in Accounting. He was the President of the Rutgers Accounting Society, elected by Rutgers to Who's Who Among Students in American Colleges & Universities, and a recipient of the Rutgers Accounting Program and Rutgers Senior Service Commendation Awards.
Rich began his career with Coopers & Lybrand in 1980. He quickly rose to the position of Supervising Senior and in 1982, he received the Outstanding Young Men of America Award. In 1983, Rich began his twenty-eight year career with Hoffmann-La Roche Inc. He held positions of increasing responsibility in: Internal Auditing, Financial Analysis & Budgeting, Corporate Financial Reporting, Business Policy Contracting & Pricing, National Accounts, and Director of Sales Technologies, before Roche relocated to CA in 2010.
Rich just celebrated his seventh anniversary as Executive Director of Commercial Systems, Data & Analytics at Acorda Therapeutics Inc., in Ardsley, NY.
In 1981, Rich married Kathleen Buckla, Class of '76, his high school sweetheart. They have three children; Kristen, Richard and Lauren. Rich designed and built his first home in Nutley, and later built another home in East Hanover, where his family settled. He coached their three children there in Soccer, Basketball and Baseball.
In 1975, Rich joined the Joseph Poniatowski Beneficial Association ("JPBA") trading as The Essex Manor.  He served as Treasurer from 1986-1987. In 1988, he became President. During his twenty-eight years as an Officer, in addition to supervising the operations, he designed and coordinated all the exterior and interior renovations. He recommended a Family Activity Program which included an Annual Dinner Dance, Annual Picnic, Santa Claus and Easter Bunny programs, all of which were held at The Essex Manor. Rich received the JPBA Man of the Year Award. Throughout its rich 115 history, the JPBA prospered under the guidance of very energetic Executive Committees, that made substantial donations to Bloomfield Schools, Churches, Hospitals, Charitable and Civic Organizations. The Essex Manor was home to many Fundraisers for local individuals in need.
In 2009, Rich coordinated a Roche Foundation Grant in the sum of $5,000 to the Bloomfield Educational Foundation ("BEF") for their Science Initiative, which led to future Grants from Roche to the BEF. Rich also helped coordinate the Class of 1975 Thirty-Fifth Reunion at The Essex Manor.  In 2015, The Joseph Poniatowski Beneficial Association (JBPA) agreed to donate $5,000 to the BEF College Scholarship Fund.  In 2016, they donated an additional $15,000 to the BEF College Scholarship Fund.   The BEF Community Organization of the Year Award was bestowed upon Rich for his leadership of this organization and their generosity to support the BEF scholarships, in 2016.
Rich currently sits on three Boards; the Bloomfield Educational Foundation Board, East Hanover Land Use & Planning Board, and the East Hanover Knights of Columbus Board. He is also an active member of the St. Rose of Lima Church in East Hanover and the Rutgers Alumni Association.
Bob Ley, '72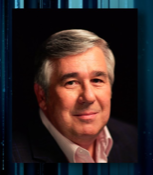 Bob Ley '72 grew up in Bloomfield, New Jersey, where he attended Bloomfield High School. He got his start in broadcasting as a sportscaster and program director at WSOU at Seton Hall University, and interned as a production staffer at WOR-AM in New York City. After graduating magna cum laude with a Bachelor of Arts degree in Communications, Ley worked several minor broadcasting jobs, including public address announcer with the New York Cosmos soccer team, before landing his first major position with ESPN just three days after the network's launch in 1979.
Bob Ley joined ESPN on September 9, 1979, and is the longest-tenured employee currently with the network.
In 1980, Ley hosted the first televised NCAA Selection Show, though the airing would switch to CBS two years later.
Ley hosts ESPN's investigative program Outside the Lines, which he has hosted since its inception in 1990. He has hosted SportsCenter for much of his career at ESPN, and on August 9, 2004, he hosted an "old school" edition with longtime broadcasting partner Charley Steiner.
He is the primary studio host for ESPN's telecasts of major international professional soccer tournaments, including the 2010 FIFA World Cup, the 2011 FIFA Women's World Cup, the 2012 UEFA European Championship and the 2016 UEFA European Championship.
In addition to this latest award, Ley's honors include:
1987 – Bloomfield High School Athletic Hall of Fame
1995 – Northeastern University Center for Study of Sport and Society and School of Journalism Excellence in Sports Journalism Award
WSOU-FM Hall of Fame Member
Eight Sports Emmy Awards for Sports Journalism
Three CableACE Awards for Sports Information Series
Four CableACE Awards (with Suburban Cablevision, East Orange, New Jersey)
2008 – Commencement speaker for the University of Hartford (West Hartford, Connecticut)
2013 – Golden Blazer of Fame for services to soccer in the United States
Candace Straight, '65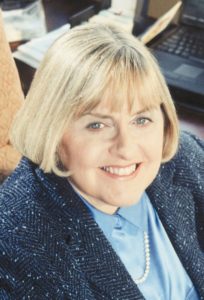 Candace Straight is a private investor and independent director. Throughout her successful career she has worked for numerous corporations including Merck & Co. Inc., and Bankers Trust Company. Straight has also served as a principal of Head and Partners and as an Advisory Director of Securitas Capital, L.L.C., a global private equity investment firm specializing in insurance and financial services related industries.
Candace Straight is a director of Neuberger and Berman's mutual funds, which have assets of approximately $40 billion. She is also the Executive Producer of "Equity," an independent film starring two-time Emmy winner ("Breaking Bad") Anna Gunn. "Equity" is the first female-driven Wall Street film with Gunn playing a senior investment banker threatened by financial scandal.  The film premiered January 26, 2016 at the Sundance film festival and was purchased by Sony Pictures Classics. "Equity" was released in theaters on July 29, 2016.
Recently, Straight invested in the movie "Egg" which premiered at the Tribeca Film Festival on April 2, 2018. The film stars Alysia Reiner ("Equity" and "Orange is the New Black"), Christina Hendricks ("Mad Men"), Anna Camp ("Pitch Perfect"), Gbenga Akinnagbe ("Detroit" and "The Deuce") and David Alan Basche ("Equity").
"Egg," a satire about two couples and a surrogate lays bare the complications, contradictions, heartbreak and absurdities implicit in how we think about motherhood.
Last summer Straight executive produced the movie "The Pages," a political thriller staring Jamie Lee Curtis and Tika Sumpter. The movie is expected to be released later in 2018.
Straight was appointed by Governor Chris Christie to the Board of Governors of Rutgers University, serving a five-year term from 2011 through December 2016. She served as Chair of the Audit Committee from 2013-2016.
From 2004 to 2008, Straight served as a director of National Atlantic Holdings Corporation and its subsidiary Proformance Insurance, a New Jersey based personal and commercial lines insurance company, and, from 2006 to July 2015, Straight served as a director of Montpelier Re, a Bermuda based property and casualty reinsurer which was sold to Endurance Specialty in 2015.
From 1987 to 1997, Straight was a principal of Head and Partners, a merchant banking firm specializing in the insurance industry. The Head Group acquired numerous companies including Integon Corporation, Sphere Drake, Marketing One, and Anglo American. Straight was President of Integon Corporation from 1990 to 1992 and served as a director until 1995. Straight also served as a Director of Integon Life, Marketing One, and Drake Holdings.
In 1982, Straight was appointed by Governor Thomas Kean to be a Trustee of the Public Employees Retirement System of the State of New Jersey, serving until 1988.  Straight was Co-Chair of Governor Christine Todd Whitman's Budget Advisory Committee and served on Mayor Rudy Giuliani's Budget Transition Team.
In 1994 Straight was appointed by Governor Whitman to the Board of the New Jersey Sports and Exposition Authority ("NJSEA"), serving until 2003. Straight was Vice Chairman of the NJSEA from 1996 to January 2002.  She also served on Mayor Giuliani and Mayor Michael Bloomberg's Private/Public Initiatives Council and is a former trustee of the New Jersey Network Foundation and a past President of the Financial Women's Association of New York.  From 1982 to 1990, Straight was a Trustee of Wilson College, and Chairman of the College's Investment Committee. Straight was named trustee emeritus in 2006.
Straight is a graduate of Bloomfield High School.  She received her B.A. from Wilson College and her M.B.A. from New York University.  In June 1994, Wilson College awarded an honorary Doctor of Humane Letters to Straight.
James Parker Wollner, '64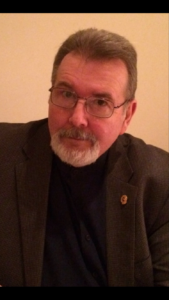 A decorated Vietnam veteran and author, James Wollner, (also known as Parker or Tinker to many of his Bloomfield friends), is a lifelong resident of Bloomfield. He attended Fairview School, South Junior High School and Bloomfield High School and went on to earn a BA degree in political science and history from Bloomfield College.
However, James lived an entire life time during those years between his graduations from high school in 1964 and college in 1971. He began his undergrad studies part-time while working at several Bloomfield establishments including Forest Hill Field Club and the Schering Corp. But the jump to full-time student didn't go as planned; James was drafted into the US Army on his 21st birthday. He served in Vietnam's Mekong Delta from 1967-1968 as an airboat pilot with the 9th Infantry Division. Wounded during his tour, he was awarded the Purple Heart and the Army Commendation Medal with "V" device for heroism. He chronicled his wartime experiences in the book The Bamboo Shoot—The Story of the 2nd Airborne Platoon, published in 2007. The memoir details the range of day- to-day experiences and emotions from non-stop action to monotony and from terror and grief to uplifting camaraderie between brothers helping others who could not help themselves.
Back home, James completed his studies at Bloomfield College in a record two-and-one-half years and served as 1971 Bloomfield College class president. He remains active with his alma mater, having served as president of the alumni association and currently serves on the alumni council. In addition, he has been instrumental in coordinating efforts between the college and the Bloomfield Board of Education to create the Pre-K Early Childhood Learning Center at Forest Glen School, as well as the alternative high school program, Liberty Academy, on the Bloomfield College campus.
James spent his professional life in industrial purchasing and warehouse management before moving into the medical field as Director of Purchasing at Mountainside Hospital in Montclair.  In this venue he was responsible for cost-savings through standardization in products and shared services. He helped to establish, with N.J. Hospital Association, a Group Purchasing Program, saving millions of dollars to N.J. hospitals. He retired as VP of Materials Management from United Hospital Medical Center in Newark after being diagnosed with MS.
With the blessing of his wife, Madeline, James became, in his own words, "the original Mr. Mom," to their two children, Christian BHS '93 and Katherine, BHS '98. Currently, James serves on numerous Bloomfield town boards, commissions and volunteer organizations. He remains very active with fellow Vietnam veterans and has recorded for oral history projects at Texas Tech University and the N.J. State National Guard Museum. He also has participated in the N.J. Vietnam Veterans Memorial education teacher seminars, through poetry readings written by him and fellow Vietnam veterans.   The BEF enthusiastically bestowed upon James, The Alumnus of the Year Award at their annual Gala in 2016.
Following the sudden death, in 2016 of their son Christian, the Wollners decided to contribute toward the support of a BEF Extraordinary Grant project in cooperation with the Bloomfield Recreation Department and the Bloomfield BOE for a Lego Project in two Bloomfield elementary schools as a pilot program, with plans for it to expand to all the elementary schools. They picked this project to support knowing that if it was available when their son was at Brookdale School he would have been the first one in line to sign up for the project.
Jim also established The Christian David Wollner Veterans Award at Bloomfield College for veterans currently enrolled at Bloomfield College. Recalling his own experiences as a returning veteran/student, as well as the benefits both his children received as the children of a disabled veteran, Jim wanted to make a vet's daily life a little bit easier with this award. In his words, "these veterans sacrificed so much for their country, I just want to say Thank you."