Alma mater
"

Field of Honor

"

features Ed Berlinski '34
Article by Tim Peeler, North Carolina State University
Eddie Berlinski was a North Carolina State University Wolfpack superstar for his exploits on the football field. But his daring escape from a Nazi POW camp during World War II is the stuff of legend.
The exploits of NC State superstar athlete Eddie Berlinski really defy credulity. The 1938 State graduate with a degree in education was perhaps the most highly recruited athlete in the first 50 years of State College's existence, a rare find from Bloomfield, New Jersey, brought south by former Notre Dame head coach Heartley "Hunk" Anderson in 1934 to play for the Wolfpack.
Anderson, who left Notre Dame for NC State two years after replacing the late Knute Rockne, often brought in players from outside North Carolina, including Berlinski's backfield mate, a rodeo rider from Wallace, Idaho, named Everette "Cowboy" Robinson.
Berlinski's Pack career has faded through the years, but the "Little Buzzer" was not only the best halfback of his era for Anderson's football team, he was also a flashy guard for coach R.R. Sermon's basketball squad and a speedy centerfielder for coach Chick Doak's baseball team. He and teammate Connie Mack Berry, who played three sports professionally, became famous for standing out in multiple sports.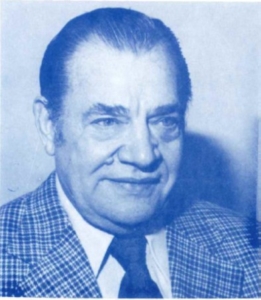 This weekend, however, as NC State football celebrates its annual Military Appreciation Day, take a few moments to learn about a State College grad whose athletics accomplishments, however grand, were outshone by what he endured as a member of the U.S. Army during World War II.
Once, playing against Boston College in Fenway Park, Berlinski scored both touchdowns in the Wolfpack's win over the Eagles in a performance that was named one of the best college football feats in the history of the famed baseball stadium. He scored the winning touchdown on a 74-yard run with less than a minute to play, causing the Bostonians to drop their teeth in their chowder.
Another time, he nearly filled Ebbets Field himself, when most of the residents of Bloomfield and many of his old high school rivals came across the river to see him and his Wolfpack teammates play Manhattan College in New York City. Berlinski wasn't necessarily the star of that game, but he was the star attraction.
In 1939, Berlinski's State College classmates voted him the winner of the Alumni Athletic Trophy, the annual award given to the school's best athlete, And he was named to the Polish All-American team, picked annually by the Polish Messenger newspaper of South Bend, Indiana. That's an important part of the rest of this story.
Berlinski went on to help the Newark Bears of the professional football American Association win the 1940 championship while he coached the football team at his high school alma mater in Bloomfield.
None of that is what made Berlinski remarkable.
Behind Enemy Lines
In the early morning of Jan. 21, 1945, deep behind enemy lines in snow-covered Poland, Berlinski and fellow NC State alumnus Lt. Herbert L. Garris of Raleigh were among four dozen imprisoned U.S. Army officers who made a daring escape from a German prisoner-of-war camp, braving frozen terrain and gunfire to make their way from infamous Oflag 64 for commissioned officers captured on World War II battlefields.
Berlinski, assigned to a tank corps in the exhilarating battle for North Africa after being drafted just after the U.S. entry into the war, had been at the camp near Szubin, Poland, for more than 27 months, after being captured in Tunisia in 1943.
"It felt just like the moment before the kickoff when it started," Berlinski once told Stars and Stripes of his first taste of combat. "The boys came down the field in formation like a well-coached team. The formation reminded me of an inverted flying wedge. Then things happened. All the guns started firing. We fired at everything that moved."
A gifted athlete, Berlinski played baseball for coach Chick Doak and basketball for coach R.R. Sermon at NC State.
Feared dead, Berlinski's demise was news on NC State's campus. It was the second time Berlinski was declared dead — the first time was in 1937 when North Carolina's Daily Tar Heel erroneously reported that the star player had been killed in a terrible off-campus automobile accident, a story that was corrected by the NC State News Bureau in local newspapers.
From Tunisia, Berlinski was shuttled from camp to camp, by foot and by train, until he found himself in his ancestral homeland of Poland, far away from New Jersey.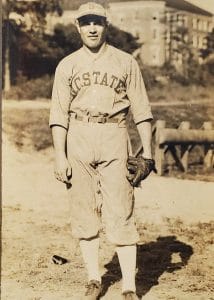 He was a prisoner-of-war star, one of many athletes who helped their fellow prisoners survive the fearsome boredom of prison camp life by providing athletic entertainment. As such institutions go, Oflag 64 was well-equipped, with fields and equipment, a 6,000-book library, a theatre, an orchestra and a jazz ensemble.
The camp had softball, soccer and tennis leagues, organized badminton and field hockey tournaments and even offered golf lessons from a former touring professional. It had an annual flag football game, for which Berlinski was voted most valuable player.
What the camp was severely lacking, however, was food. The raw, gnawing hunger was exacerbated by the German captors' theft of the American officers' Red Cross care parcels on a regular basis.
Still, Berlinski was a model prisoner who was respected by other soldiers for his knowledge of sports trivia — and his athletic ability.
"He was a real sports almanac," wrote fellow prisoner Bill Burghardt in a letter home from the camp that was published in the New York Daily Mirror. "We used to sit around talking sports and I'll bet that no one in this world could stump Berlinski on a sports question from 1925-42. He knew how many seconds every track man took for any distance. He knew the scores, when the knockouts came, everything. He was eventually voted the outstanding athlete in the prison camp and also the best dressed. Sure, the best dressed. Those fellows used to sleep on their pants in some special way to keep the crease in and they pressed their shirts and shined their shoes."
Band of Brothers
Midway through his stay in the prison camp, a batch of new prisoners captured during the D-Day invasion of France joined the other Army officers. Among them was Garris, a member of the 101st Airborne "Screaming Eagles" Division of paratroopers that were the first to land on French soil under the cover of night on June 6, 1944.
Berlinski and Garris, who were passing acquaintances while in school together, became friends as POWs remembering their time on campus, Berlinski as a star athlete and Garris as an unassuming engineering student.
It wasn't hard to grow tired of prison life, with little to eat other than thin potato soup or barley-and-horsemeat broth.
Just as the Soviet Union's 61st Army marched into Poland to liberate Oflag 64, the two State College grads and about 50 other prisoners risked their lives by escaping into the Polish countryside as the Soviets took over the Nazi prison camp. While the other POWs were forced to march towards Berlin with the westward advancing Soviet forces, Berlinski, Garris and the other escapees worked their way through Eastern Europe, down the Black Sea coast to Odessa, Ukraine, then over to Naples, Italy, and finally home towards the United States in the final days of the European Theater. He was discharged in 1945 with the rank of major.
Berlinski's story was seldom told, and never outside of the family. After the war, he returned home to Bloomfield where he resumed football and baseball coaching. From 1947-62, he was the head football and baseball coach at Bellville High School, then taught physical education until his retirement in 1980.
He was elected into the Bloomfield, Belleville and New Jersey High School halls of fame and received the Distinguished Coaches Award from the National Football Foundation.
Garris stayed in the Army, retiring as a lieutenant colonel after postwar stints in Germany, Korea and Panama. He also turned to teaching after his military service. He earned a master's degree and doctorate from the University of Maryland and spent decades teaching graduate courses in political science at Maryland and Central Michigan.
Berlinski died in New Jersey in 1994 at the age of 79. Garris died in Pinehurst at the age of 93 in 2011.
Upon hearing of Berlinski's death, Garris did his duty as editor emeritus of the Oflag 64 secret newsletter, sharing the obituary with all the surviving members of the prison camp.
"A salute," Garris wrote, "to a fine State alumnus and a good friend!"