Bloomfield High School's Olympic Heroes.
BHS has produced many standout athletes in its history, three of whom who went to the Olympics!
John Gibson '24
John Gibson was born in New York City in 1905, but lived most of his life in Bloomfield, New Jersey, graduating from Bloomfield High School in 1924.
He was the head coach of men's track and field at Seton Hall University from 1945 to 1972. Gibson was a 1928 graduate of Fordham University, where he held the world record for the 440 yard hurdles. He was a member of the United States team at the 1928 Summer Olympics in Amsterdam, the Netherlands where he finished fourth in his semi-final and did not make the final.  Along with his athletic and coaching careers, he was also a well known track and field official as a founding member of the New Jersey Track and Field Officials Association and he worked at college meets along the east coast as well as at the Millrose Games in Madison Square Garden. He was inducted into several halls of fame, including those of Fordham University, Seton Hall University, Helms Hall, N.J. Sports Authority, Garden State and Bloomfield. Mr. Gibson was married for 67 years to the late Dorothy Croughan. He died at the age of 101.
Richard John Emberger '56
Dick Emberger graduated from Bloomfield High School in 1956, and competed for Rice, Roanoke College, the US Marine Corps, and the Athens TC. In 1963 he won the Southern Pacific AAU title, and finished second at the AAU Meet. Emberger won the 1964 Final Olympic Trials, and then placed 10th in Tokyo.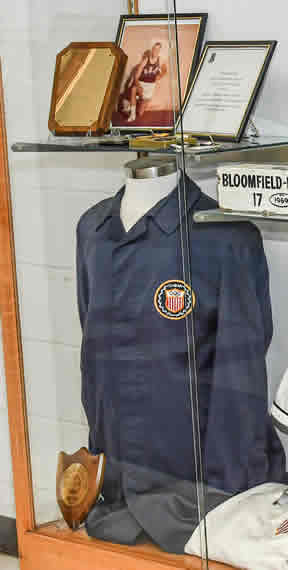 Emberger was an extremely versatile athlete. He was a top hurdler and even ran cross-country at Roanoke College, once placing third in the Mason-Dixon Conference Championship. He was also on the swim team all four years at Roanoke. He was inducted into the Roanoke College Hall of Fame in 1971.
After Tokyo Emberger stepped away from the decathlon, but returned in 1968 in an attempt to make another Olympic team. He was fifth that year at the Mount Sac Relays, third in the AAU Meet, but his fifth place at the Olympic Trials left him off the team.
Pictured here are some items Emberger donated to Bloomfield High School from his Olympic days.
Richard Ruffalo '69
BHS graduate, Richard Ruffalo, '69 has won 14 international gold medals, 32 national titles, 13 USA Track & Field state titles where he competed against sighted athletes and set nine world records and 15 national records in four different events. He is a five-time Paralympian, winning medals in shot put, discus and javelin. In 1988, the United States Olympic Committee named Ruffalo the "Disabled Athlete of the Year."
In 1989, Ruffalo won a Victor Award as the nation's most inspirational athlete. He was the first athlete with a physical disability to be inducted into the National Italian American Sports Hall of Fame in 1994.
Now a motivational speaker, Ruffalo is also a member of the National Teacher's Hall of Fame. At the 1995 Walt Disney American Teacher Awards, he received Outstanding Coach of the Year and won the Outstanding Teacher of the Year award presented by Vice President Al Gore. Ruffalo was named American Hometown Hero in 1997 by the Children's Miracle Network and later received the Salute to Excellence in 1998.