During this season of giving, we are very pleased to highlight the extraordinary generosity of BEF Founder and Chairman Emeritus, Joseph Kliminski '61, aka, Mr. K.  Following is a story of one man's big-hearted effort to enrich the lives for thousands of Bloomfield's youth.
A little over 20 years ago, Joe had a conversation with Superintendent Thomas Dowd regarding the Bloomfield Board of Education's tight budget.  Superintendent Dowd wished there were funds for special needs students, for the gifted and talented, and for students curious about subjects beyond the classroom, to name a few scenarios.  While educational foundations existed for private and religious schools, not many existed to support the public schools.  Joe offered to explore the possibility of creating a foundation to enhance the educational experiences for all students in the Bloomfield School District.
Recognizing that such a task is not accomplished alone, he contacted two BHS graduates, Howard Friedman '55, and Robert Fetterly '71.  Intrigued by the idea, the three sketched out a mission and goals for this new non-profit and in 1999, the Bloomfield Educational Foundation was born.
---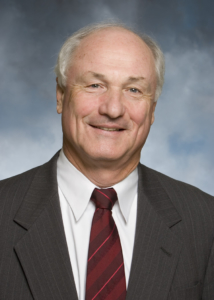 "I feel that I have had success in my life, due to my education by the Bloomfield Schools. I attended Fairview Elementary School, South Junior High and Bloomfield High School.  I enjoyed sports, which included basketball, due in part, to my 6 ft. 4-inch height and my first love, baseball.   I attended St. Michael's College in Vermont, graduated and served in the Army for 21 months, including a tour in Vietnam.  After the service, I came back to Bloomfield, to American Bank and started my career in banking.  I stayed there for 42 years, interacting with the community and the schools, which enriched my life.  I wanted to give back.  I wanted the kids today to have the same experiences I had growing up.  So it was natural for me to want to start this Foundation and to support it to the fullest of my ability." Joe explained.
One experience that stays with him, took place when he was a junior and on the basketball team.  That season, BHS lost to East Orange, Seton Hall Prep and twice to Montclair.  The Essex County tournament was approaching and Coach Cella, who saw winners on his team, practiced them hard, even scheduling a practice on Christmas Day.  In a total reversal of previous game outcomes, they won the Essex County Tournament, beating East Orange, Seton Hall Prep and Montclair for the championship.
"This was a life lesson for me.  Although I did not play in the tournament, it taught me if you never give up, work hard, remain a team player and give 100%, you will be rewarded.  It has stayed with me my whole life.  That's why I give, so young people can have an experience or experiences like this," he reflected.
When recruiting a new Board member or asking for a BEF campaign donation, Joe asks, 'how much does it take to give?'  If you can't give funds, you can give your time or a talent, which is many times much more valuable than money.  He offers that if you had a good experience, you might want other young people to have a good experience too, and the BEF is a way to pay it forward for someone else.
Joe's story is full of inspiration and he is a natural at inspiring others to give.  One such person was the CEO of Investors Bank, Kevin Cummings.  In 2009, in honor of Joe Kliminski, Kevin pledged $50,000 to the Foundation.  Including this gift, Mr. K. has given $165,000 to date to support the BEF.  Total BEF giving to the Bloomfield School system totals over $1.5 million in scholarships, classroom grants and major projects throughout the District.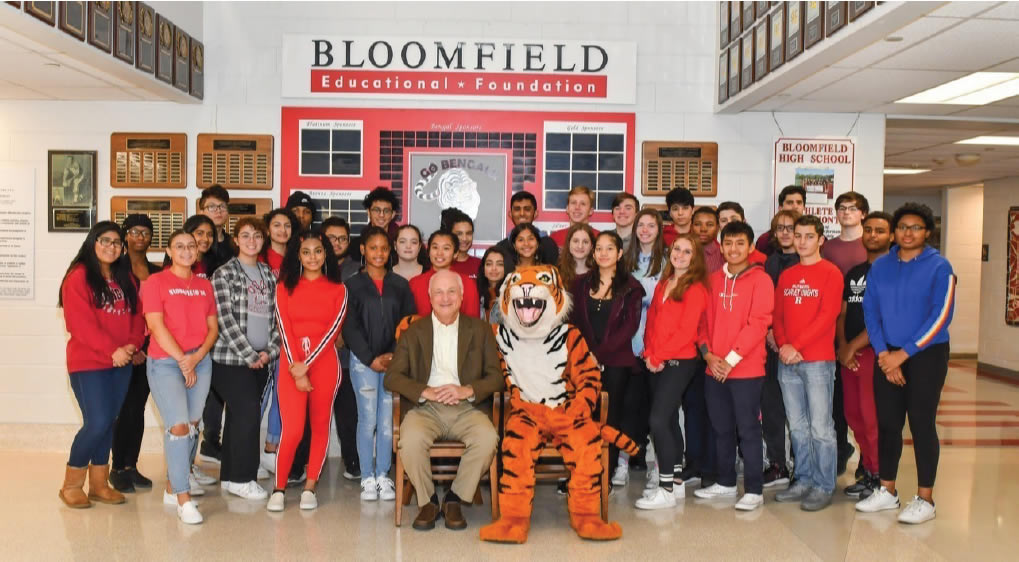 A humble man who seeks no accolades, Joe feels a real sense of pride in the accomplishments of the BEF.  He is especially proud of so many supporters who have taken up the challenge and enhanced the educational experiences for countless Bloomfield students.   Supporters like Mike Sceurman '96, a BEF Theodore Jasieniecki scholarship winner.  Mike is a past BEF President and has been an active BEF Board member for over a decade.  Mike has run the Theodore Jasieniecki Basketball Game in January and the fall football Alumni Tailgate event is his brain child.  When there is a job to do, Mike is the first to raise his hand and helps to get it done.  He is a family man now and despite his hectic schedule and personal obligations, he continues to give back, and in the words of Mr. K., he is, "keeping the ball in play".
From one appreciative Bengal to another please consider making a tax-deductible donation to the BEF, a registered 501c-3 charity.  To donate online go to:
https://www.bloomfieldeducationalfoundation.org/donate/   Thank you!