Coach Mike Carter joins BHS Hall of Fame Class of 2023
By Mike Lamberti, reprinted courtesy of TapintoBloomfield.
BLOOMFIELD, NJ–In Bloomfield, just the mention of the surname Carter invokes memories of good times, on the athletic venue, classroom and, most importantly, the household.
And when you say Michael Carter, Sr., just stand back and get ready for the platitudes. Because they'll be long, and heartfelt.
Carter has been Bloomfield High's varsity football coach for the past 32 seasons, and has been a part of the program's coaching staff for 36 years. He's an educator at Bloomfield High, his alma mater. He's been a loving husband and devoted dad to the five children his wife, Gerise and he, have raised.
He's also the one-time varsity baseball coach, where he led the Bengals to its last Greater Newark Tournament championship, in 1996, and an appearance in the title game a year later.
Mike speaks with pride and deep admiration of his mother, Pat, who, recently added the 22nd and 23rd great-grandchildren to her legend as the family matriarch.
And, on April 27, Mike Carter can add yet another accolade to an already busy resume. He will be a Bloomfield High Hall of Famer.
Carter will join Charles Ace Woods, Anna Maria Martino, Michael Nazzaretto, Sarah Prezioso and Stephen Vahalla, Jr., as the newest HOF members. The ceremony will take place at the Wilshire Grand Hotel, in West Orange.
To reserve seats and for more information, click here.
For all his successes, you won't find a more humble man. He'll go on and on about the greatness of his wife in the field of nursing, and how his five children have found success as athletes, both in college, where eldest son, Mike Jr. was a standout baseball player at Rutgers University and middle son, Danny, is a pre-season, NCAA D-3 All-American, in baseball at William Paterson University, for 2023.
Eldest daughter Kelly earned her master's degree in 2021 and is now working as an educator while youngest daughter, Megan, has aspirations to be a nurse and is doing well at Montclair State. Mike Sr. brags of his youngest son, Brian, and his musical talents, as well as a strong computer literacy.
And he'll often go bonkers about his former football players at Bloomfield High, and how many have played in college, and beyond. He loves to talk about some of the Bengals teams he was a part of, from 1977-1979, namely football, wrestling, basketball and baseball.
Mike speaks with gratitude of the friendships he made in town, growing up, and how those men and women remain a big part of his life nearly 55 years later.
When Mike learned that he'll be inducted into the Hall of Fame along with Mike Nazzaretto, who played football and baseball for Carter about a quarter century ago at BHS, Carter couldn't stop talking about what a great athlete and person Nazzaretto was, and still is.
Carter is the son of Pat and the late Robert Carter, and one of six children born to the couple. Mike's siblings are Gibby, Jerry, Kathy, Margie and the late Patti.
His influence on so many others speaks volumes.
Phil Delgado is today a successful softball coach and mentor. He's the head coach at Bloomfield College. A generation ago, Delgado played football for Carter.
"That man saved my life, literally," said Delgado of Carter. "I named my son after him. I don't know where'd I'd be without Mike Carter."
Bill Johnson, like Carter is a long-time high school football coach, as well as an assistant coach on the collegiate level. Johnson also served as an assistant coach at Bloomfield, on Carter's staff, from 2004-2008.
"I had been the head (football) coach at Passaic Valley, prior to coming to Bloomfield," said Johnson, who now has a few state championship rings for his work as an assistant coach at St. Joseph (Montvale) and St. Peter's Prep, after two good stints as the head coach at Passaic Valley (1999-2003 and 2012-2014). "Mike and I had become friends, and when I left PV, there was an opening for me at Bloomfield. Well, my first year there, I had seen the way Mike works and cares for his players.
"I thought I was good to my kids when I was a head coach. But when I got to Bloomfield and saw all the things Mike did to help his players, on and off the field, I was embarrassed. I was like 'wow, this man is really something.'"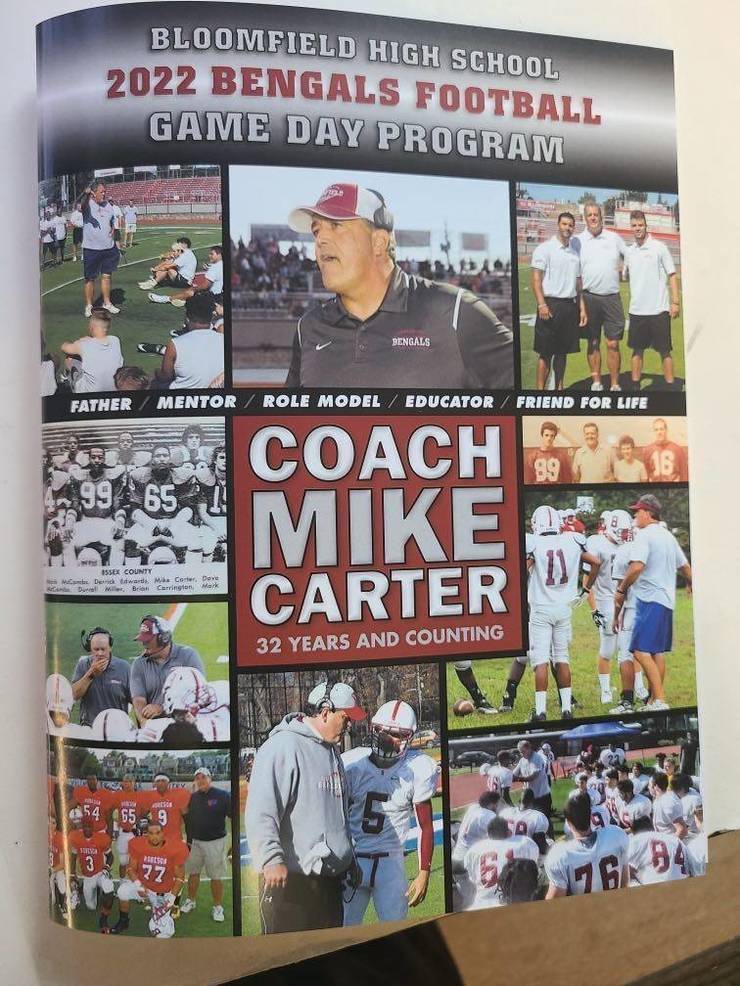 Ken Trimmer has been a legendary high school football coach in New Jersey for over 40 years. An old-school coach, he isn't one to throw compliments around cheaply. But when it comes to Carter, there's no doubt about his respect.
"You will not meet a better man, both as a friend and a coach," said Trimmer. "There is no question about it. This is someone who does it right, every day. A complete gentleman and a hard-working coach. I've known him for almost 30 years and have felt this way from the first time I met him."
Trimmer's Caldwell High teams would often scrimmage Carter's Bengals in August. And, since the inception of the Robeson Football Classic, in 1994, Carter has been by Trimmer's side in making that All-Star game the success it is today.
"Mike is not only an excellent coach, but he's always giving back to his family, his coaching family and his players, past and present," said Trimmer.
Of course, Mike's children rave about their father. Mike Carter Jr. and Danny Carter are assistant coaches on dad's football coaching staff.
"Coaching with my father has always been a goal of mine growing up," said Mike Carter Jr., who was a tremendous athlete at Bloomfield High, and later a star baseball player at Rutgers University. "I've always looked up to him, and the way he carries himself. He's never shied away from a challenge, and is the first one there when someone is in need of help. He loves what he does, and brings a never-ending energy approach to life every single day."
Megan Carter reflected on her father's role as the leader of the family.
"He's always helped me with sports, and was at my softball games (when she played at Bloomfield High, and later club softball in college)," said Megan. "When my mom passed away, he had to take on two roles, and he's really done it well. He has a very busy life, but he's there for us. We're always first with him."
Kelly Carter recalls the fun of watching her dad's affinity for old television shows, namely 'The Honeymooners' and 'The There Stooges.' Mike's sense of humor is boundless, but most importantly, Kelly knows her father's heart and soul is his family.
"My father has always been there, from my days at Bloomfield High, playing soccer, basketball and softball," said Kelly. "He'd usually sit by himself at a game, but it wasn't difficult for me to find him, where ever he was sitting or standing. When I was little, he and I would do catch phrases, like 'see you later' and I'd say 'alligator'. One day, I forgot to finish the phrase, and I called him at work to finish it. Stuff like that. We'd always have fun together.
"When my mother passed away, my father took on two roles. And it was really special to see, because he knew he could use advice and assistance, and he never hesitated to ask. That meant a lot to me. We were all in a transitional period in our lives then. Dad always likes to group text, too. He has fun communicating.
"My dad also helped raised money for charities, and encourages people who may have depression, to get help."
Danny Carter, the latest college graduate in Mike's family, is enjoying his role as a coach, as well as the chance to continue playing collegiate baseball. That love, for sure, stems from his father.
"Living in a football house, I have gotten to experience many different phases of football, from being the ball boy, to a player, to now a coach," said Dan. "And one thing has remained the same, my father, Coach Carter, has been there every step of the way.
"Given the opportunity to coach alongside my father, my brother Mike, and my cousin Jason (Tiseo), has been some of the most memorable and enjoying moments of my life."
Brian Carter is Geri and Mike's youngest son, and fourth of the five children.
"My father is incredibly supportive," said Brian. "He comes to my concerts and always asks how I'm doing with my music."
Megan Carter also knows what a big musical fan her dad is.
"He'll blast the music in the car," she said. "Dad loves Rock and Roll and Country music, and really likes the Beetles and Willie Nelson. And he's a pretty good singer, too. He'll be around the house sometime, singing. He's not bad.
"And don't get him started on the all the concerts he's attended all these years. He loves music."
From quoting Ralph Kramden, on the 'Honeymooners', to spending time with people who need his help and guidance, to being a loving parent, diligent coach, devoted son, and inspirational gentleman, Mike Carter's upcoming ascension into the Bloomfield High Hall of Fame is indeed a natural.