Michael Nazzaretto to be inducted into BHS Hall of Fame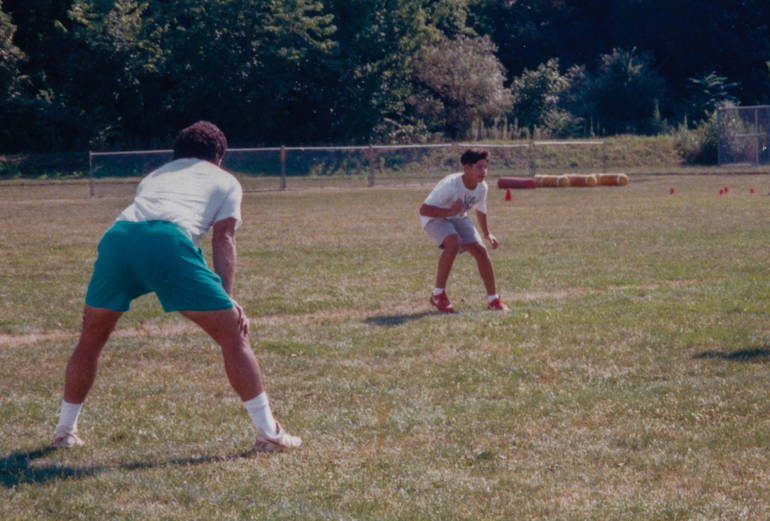 By Mike Lamberti, reprinted courtesy of TapintoBloomfield.
BLOOMFIELD, NJ– Earning induction into an athletic Hall of Fame is the culmination of a lifetime of work.
And for Bloomfield High's Michael Nazzaretto, his commitment to being a standout athlete has certainly come full-circle.
Nazzaretto is one of six that will be honored on April 27, when the Bloomfield High Athletic Hall of Fame opens its doors once again.
The ceremony will take place at the Wilshire Grand Hotel, in West Orange. For more information on admission, click here.
Nazzaretto will join Mike Carter Sr., Anna Maria Martino, Charles Ace Woods, Sarah Prezioso and Stephen Vahalla, Jr., as the newest HOF members.
Nearly 28 years after graduating from Bloomfield High, Nazzaretto, now a husband and father of three, is ecstatic about his upcoming induction.
"I'm honored and looking forward to the HOF event on April 27," said Nazzaretto, who graduated from Bloomfield High in 1995. "I currently reside in Verona with my wife of 15 years, Lisa, and three children, Nick (14), Joe (11) and Mia (10).  My mother, Barbara, has been a teacher in Bloomfield for 25 years at Watsessing School. I've worked in the finance industry for the past 23 years, currently as a Senior Regional Director for Principal Asset Management in New York City."
The memories of being a Bengal resonate well.
"When I think back to the early 1990s, and my years attending BHS, only smiles come to mind," he said. "A bunch of gritty kids that competed on the (baseball) diamond and (football) gridiron in one of the toughest divisions in the state (the NNJIL). My teammates come to mind first, they were fantastic players. It was a lot of fun going to battle with guys like Nick Franklin, Mike Martino, Jason Bratcher, Kevin O'Leary, Anthony Lambo, Anthony Pecora, Danny Peña, the Garland brothers, Frank Orlando and Jason Tiseo, among others.
"On the BHS baseball team, I was fortunate to start as a freshman and get a front row seat playing second base, next to senior shortstop, Brian Lindner.  His senior year at BHS has to be second to none. It showed me what was possible through dedication to the sport, and consistently working on your craft.  Another BHS baseball great, Joe Carter, who had just graduated from college at the time, took me under his wing. We often practiced hitting in my garage on Garrabrant Avenue."
The football memories are also strong. Nazzaretto's head coach in football and baseball was Carter Sr., who Nazzaretto remains very close to, today.
"Our leader in football and baseball was Coach Carter," said Nazzaretto. "The lessons he instilled in us 30 years ago, still ring true today. Simple things like 'on time is 15 minutes early'. Or more heavy things such as being humble and having accountability for your own actions.  He taught me many life skills that I now share with my own children. To be inducted alongside Coach Carter is extra special to me. He's a pillar in the Bloomfield community, and a wonderful mentor to so many past, and present Bengals."
Carter Sr. returned the compliments in stride.
"Mike Nazz was a fierce competitor," said Carter. "He was a standout athlete and comes from a great family. His parents raised a leader. Mike was the ultra competitor. He had 57 hits in one season and was one of best second basemen in Bengal history.
"(In football) Mike was an excellent skill player on offense and a shut down cornerback. He was part of a great group of Bloomfield student-athletes that had both high school and college playing experience. Mike Nazz was one of the greatest Bengals ever."
Family is also paramount to Nazzaretto.
"My father, Gerard, who passed away in 2015, played a huge role in my life and athletic career," said Michael. "He was a constant optimist, always providing words of encouragement, even when the results weren't in my favor.  He rarely missed a game, sitting in the outfield, observing from afar at baseball games.
"Then during BHS football games, he would film us from the sidelines and create highlight videos for everyone to enjoy at the end of each season.  He would have gotten a kick out of this induction, no doubt about it."