Steve Vahalla Jr. to Take his Place Among Bloomfield High's Greatest Athletes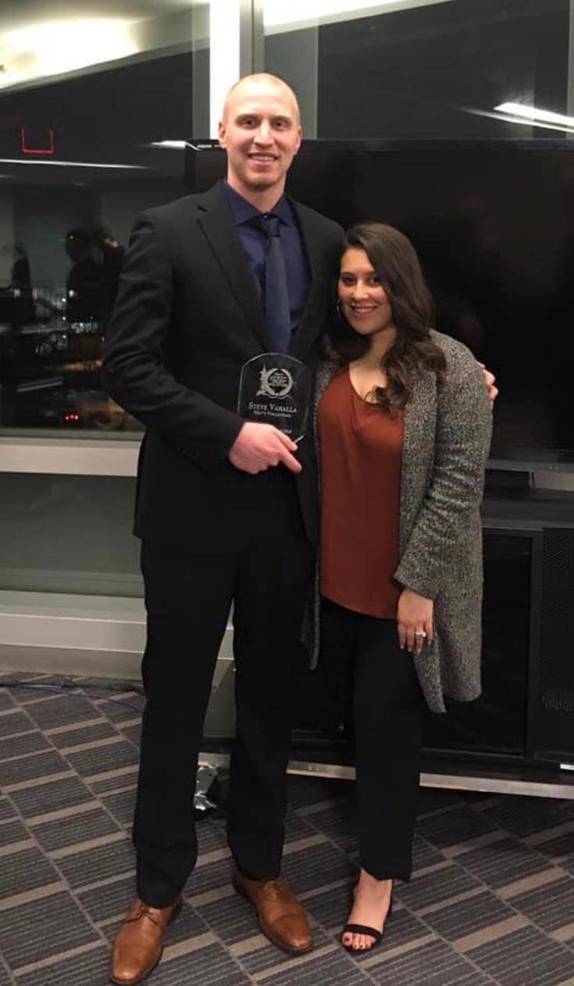 By Mike Lamberti, reprinted courtesy of TapintoBloomfield.
BLOOMFIELD, NJ–Steve Vahalla Jr. has earned a tremendous distinction.
The 2009 graduate of Bloomfield High will be the first boys volleyball player in school history to earn enshrinement into the BHS Hall of Fame.
The ceremony will take place at the Wilshire Grand Hotel, in West Orange. For more information on admission, click here.
There are some familiar names on the list of new Hall of Famers for Vahalla.
"I do know Mike Carter and Sarah Prezioso," said Vahalla, who graduated a year ahead of Prezioso and, like so many others, knew Coach Carter well from school. "I remember attending Friday night football games with friends and watching Sarah tear it up on the softball field."
While playing volleyball for the Bengals, Vahalla was a part of three Essex County championship teams, in 2006, 2008 and 2009. He was also the team captain in '08 and '09.
Post season accolades included First Team, All-State honors and being named the North Jersey Player of the year, in 2009.
"I was also the first volleyball player in BHS History to eclipse 1000 kills in a career," recalled Vahalla, who had 1,148 overall kills on the volleyball court. It's a huge honor to be the first boys' volleyball player inducted into the BHS Hall of Fame.
"My time in high school were some of the best years of my life, and shaped me into the person I am today. The friendships and bonds I built on the volleyball court are some I still have to this day."
He tells a good story of his early high school days.
"While I was walking the halls of BHS during the winter of my freshman year, heading to my locker at the end of the day, Coach (Louis) Stevens (Bloomfield High's head volleyball coach, for boys and girls) comes out of the famous Pit Gymnasium, and saw me in the hallway. He coached my sister, so the first words out of his mouth were, 'You're playing volleyball in the spring, right?'
"My mind was already set on doing track, with my sister in the spring, but my first thought was there is no way I'm saying no to this guy."
Vahalla answered Stevens with a "Yes, of course I am" (coming out for the volleyball team) and the rest, as Steve said, was history.
"Coach Stevens turned me into the volleyball player I never knew was possible," said Vahalla. "He believed in me and pushed me to be the best version of myself. We still have a great friendship to this day, and I'm honored to have him present me this award."
Steve's parents, Steve Sr. and Mary Anne Vahalla, provided a wonderful support base.
"My parents never missed a high school, or college volleyball game," said Steve, who attended college at Kean University, and was graduated in 2013. "It's great to look back on those memories, and know that I always had a strong family support system. Aside from my parents, my sister, Julianne, was always (and still is) my #1 fan. Although she might come off quiet, she was a different person when in the stands, cheering for her brother.
"She always consistently reminds me she was the one who taught me everything about volleyball, and she isn't wrong. A 2006 grad, she was a standout volleyball player at Bloomfield, as well. I remember when I was in middle school, we would pass around the volleyball, and hit on a net our parents purchased for us in our backyard. My love for volleyball definitely came from her."
Vahalla has already earned Hall of Fame status, in college.
Steve was inducted into Kean University's Hall of Fame in 2019. At Kean, he was a two-time Skyline Conference Champion, two-time NCAA Tournament quarter finalist, a team captain from 2011-2013, a first and two-time All American in Kean University's men's volleyball history, in 2012 and 2013.
He also earned Kean's D'Angola Male Athlete of the Year (KU's highest Athletic Award).
"I currently hold the single match (28), single season (421) and career (1,234) record for kills and was named to the CoSIDA Academic All-Region Team and was the Skyline Conference Scholar Athlete of the Year in 2013," said Steve proudly.
Volleyball is still a big part of his life.
"I have been the heads girls' volleyball coach at Lyndhurst High since 2013," he said. "We accomplished nine straight NJ State Tournament appearances and were the 2021 State Sectional Runner-Up and 2020-2021 division champions."
Vahalla is proud of this accomplishment, and looks forward to meeting all his 2023 HOF classmates on April 27.
"I would like to thank the Committee for this incredible honor, and want to congratulate all the other honorees as well," he said.